What's New
The 10th Smart City Summit & Expo X The 1st Net Zero City Expo
Smart City Summit and Expo will be held in Taipei from March 28th to 31st, and in Kaohsiung from March 30th to April 1st.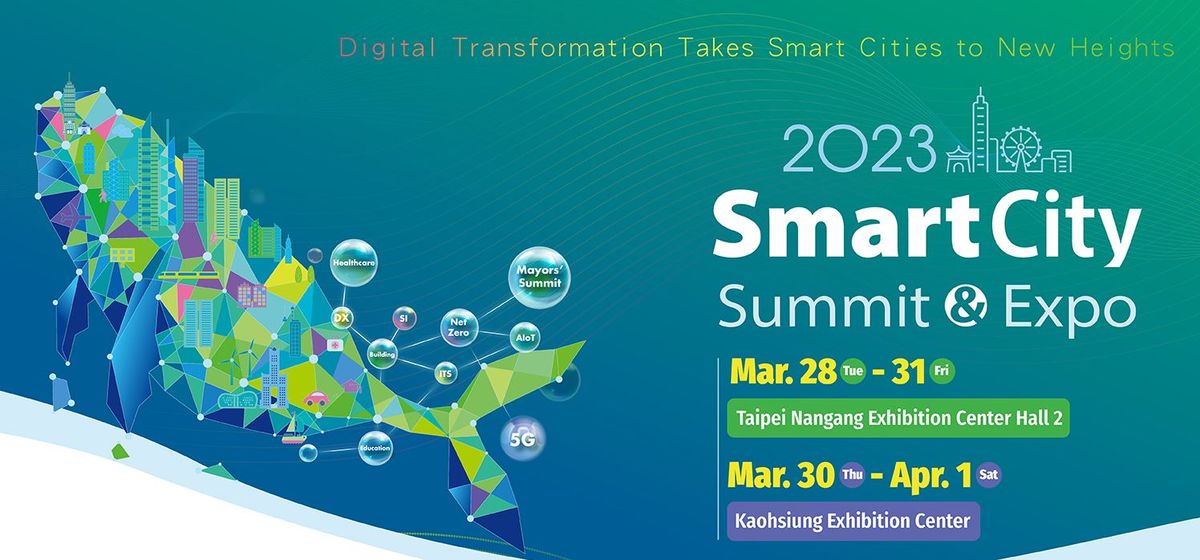 Welcoming a surge of Overseas Visitors and Seizing Business Opportunities.
Published by the Taipei Computer Association
<Taipei News> 2023 (10th) Smart City Summit and Expo will be held in Taipei from March 28th to 31st, and in Kaohsiung from March 30th to April 1st. This year, the National Development Council (NDC) is collaborating with Taipei Computer Association to hold the first "2050 Net Zero City Expo" concurrently with the Taipei event. The three expos in Taipei and Kaohsiung will have a total of 1,950 booths, which is a 30% increase in size from last year. There will be 550 participating companies showcasing IoT applications for smart cities and solutions for achieving net zero emissions. More than 60 professional forums will be held during the exhibition period, and it is expected to attract over 120,000 professional visitors for exchange and interaction.
President of Taiwan Smart City Solution Alliance, Chee Ching (President of Far EasTone Telecommunications), stated that this year's exhibition has grown by 30% compared to last year, with an estimated 42 countries and regions and 115 cities participating. As of today, there have been 364 municipal officials visiting, as well as 66 groups of business delegations from various countries with over 1,000 VIPs. It is estimated that the number of foreign VIPs this year will exceed 1,500, representing a 35% increase compared to the pre-pandemic 2019 exhibition. The numbers for international business delegations, municipal officials from various countries, and city mayors have set new records. It is expected to inject growth momentum into Taiwan's IoT industry international business opportunities. Furthermore, Taiwan's solutions for smart technology-based city governance and construction have also attracted attention and recognition from cities worldwide.
President Ching mentioned that this year, the countries with the highest number of business delegations visiting Taiwan are Malaysia, Thailand, Brazil, Czech Republic, Poland, Mongolia, and Hungary. To accommodate the many overseas visitors, Taipei Computer Association has arranged one-on-one matching sessions and, in collaboration with units such as the Institute for Information Industry, Industrial Technology Research Institute, and the Chinese International Economic Cooperation Association, organized 13 bilateral business matching meetings. The countries involved in the matching include the United Kingdom, Brazil, Hungary, the United States, Nigeria, Malaysia, Denmark, Switzerland, and India, aiming to promote cooperation between more cross-disciplinary units and assist companies in creating more incredible business benefits.
Charles Y.P. Huang, Deputy Secretary-General of Taipei Computer Association, pointed out that Taipei City Government, Kaohsiung City Government, and the National Development Council co-organize this year's exhibition. In various professional themed exhibition areas, they also jointly organized cross-domain brand theme exhibition areas such as "Smart Healthcare", "Smart Building", and "Smart Education" with the Joint Commission of Taiwan, Taiwan Intelligent Building Association, and Digital Education Institute.
Charles Y.P. Huang stated that according to the International Energy Agency's estimate, energy consumption in cities worldwide accounts for 67% of global greenhouse gas emissions, and is expected to rise to 74% by 2030. However, cities are the first line of defense against climate change and an essential field for achieving net-zero emissions. Through the hosting of the "2050 Net Zero City Expo," domestic and foreign cities can be linked together to share experiences and methods for achieving net-zero emissions. This accelerates Taiwan's progress toward net-zero emissions and assists domestic and foreign enterprises in their digital and green transformation through various net-zero solutions proposed by the industry.
The National Development Council (NDC) released Taiwan's 2050 Net Zero Emissions Roadmap at the end of March last year, and various government agencies launched their net zero emission plans in sync this year. The first "2050 Net Zero City Expo" was held this year, with the NDC, Ministry of the Interior, Ministry of Economic Affairs, Environmental Protection Administration, Ministry of Transportation and Communications, National Science Council and other government agencies setting up Taiwan's Net Zero Vision Pavilion, which had a significant declarative effect both domestically and internationally. The first Net Zero City Leaders Summit, expected to be attended by over 50 mayors from cities worldwide, will also be Taiwan's first international exchange activity on net zero emissions.
Driven by the impacts of extreme weather and the COVID-19 pandemic, corporate sustainability governance has become the most critical issue of the present time, and advanced countries worldwide are increasingly demanding disclosure of information on corporate sustainable development. Companies such as TATUNG COMPANY, Taiwan Secom Co, Kwang Yang Motor Co., Ltd., and TECO ELECTRIC & MACHINERY. participated in the first Net Zero City Exhibition with ESG as the central theme, showcasing their achievements in environment, social responsibility, and governance (ESG).
Startups were also very active in the exhibition's exchanges this year, with 10 startup accelerators leading 87 domestic and foreign startups to participate in the Taipei exhibition area. Of these, 49 companies were from overseas, accounting for 56%, while 38 were domestic, accounting for 44%. The Taipei Computer Association planned the "Net Zero Startup Theme Zone" in the Kaohsiung exhibition area, selecting 8 schools, such as National Sun Yat-sen University, National Kaohsiung University of Science and Technology, Kaohsiung Medical University, National Cheng Kung University, Pingtung University of Science and Technology, I-Shou University, Fu Jen Catholic University, and 16 startup companies to exhibit their research and development achievements, products, and services. The organizers divided the exhibition into three main themes: circular economy and sustainable agriculture, net zero innovation technology and materials, and net zero services and products, hoping to integrate more resources and efforts into local green and sustainable energy work through exchanges and exhibitions.
Information on 2023 Smart City Summit & Expo and 2050 Net Zero City Expo:
Date: From Tuesday, March 28, 2023 to Friday, March 31, 2023
Location: 1st and 4th floor of Taipei Nangang Exhibition Center, Hall 2 (No. 2, Jingmao 2nd Rd., Nangang District, Taipei City)
Event website: https://en.smartcity.org.tw/index.php/en-us/
<Metro Route>
Take the "Ban-Nan Line" or "Wen-Hu Line" and get off at "Nangang Exhibition Center Station". Then, take the No. 1 exit and walk through the underground passage to Hall 2.