What's New
Rescale and NVIDIA Partner to Bring AI to Industrial Scientific Computing
NVIDIA founder and CEO Jensen Huang joined Rescale founder and CEO Joris Poort to announce that Rescale is adopting the NVIDIA AI software portfolio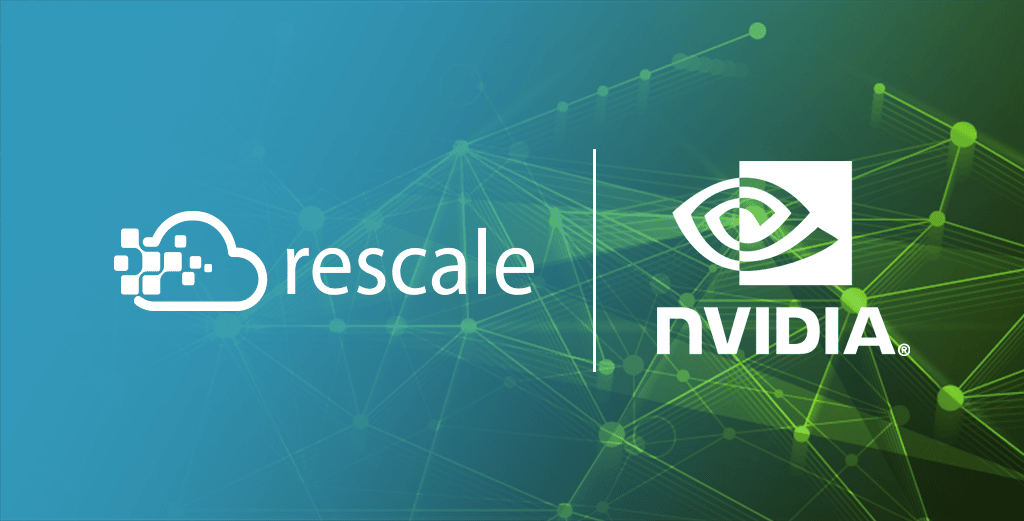 In the world of industrial scientific computing, companies like Electrolux, Denso, Samsung, and Virgin Orbit are facing a data problem. Solving challenges in energy, transportation, and customer support requires massive amounts of high-performance computing. Instead of building more supercomputers, these companies are embracing the benefits of Rescale's cloud platform for energy-efficient and accelerated computing.
Recently, at the Rescale Big Compute virtual conference, NVIDIA founder and CEO Jensen Huang joined Rescale founder and CEO Joris Poort to announce that Rescale is adopting the NVIDIA AI software portfolio. This integration will bring new capabilities to Rescale's HPC-as-a-service offerings, which include simulation and engineering software used across industries.
Jensen Huang said, "Fusing principled and data-driven methods, physics-ML AI models let us explore our design space at speeds and scales many orders of magnitude greater than ever before. NVIDIA's accelerated and AI computing platform perfectly complements Rescale to advance industrial scientific computing."
Joris Poort added, "We've helped customers speed discoveries and save costs with NVIDIA-accelerated HPC, and adding NVIDIA AI Enterprise to the Rescale platform will bring together the most advanced computing capabilities with the best of AI."
Expanding AI in the Cloud
The companies announced that they are working to bring NVIDIA AI Enterprise to Rescale, broadening the cloud platform's offerings to include NVIDIA-supported AI workflows and processing engines. Once available, customers will be able to develop AI applications in any leading cloud with support from NVIDIA.
The NVIDIA AI platform includes processing engines for each step of the AI workflow, from data processing and AI model training to simulation and deployment. NVIDIA AI enables organizations to develop predictive models for industrial HPC research and development with applications in computer vision, route optimization, robotics simulations, and more.
Speeding Physics-Based Machine Learning with NVIDIA Modulus
Rescale now offers the NVIDIA Modulus framework for developing physics machine learning neural network models to support a broad range of engineering use cases. With just a few clicks on the Rescale platform, customers can run their entire AI-driven simulation workflow.
Expanding Flexibility with On-Prem to Cloud Workflow Orchestration
Rescale is integrating the NVIDIA Base Command Platform AI developer workflow management software, which can orchestrate workloads across clouds and on-premises NVIDIA DGX systems.
Concluding Remarks
The collaboration between Rescale and NVIDIA is set to revolutionize the industrial scientific computing landscape by bringing AI into the cloud. By adopting NVIDIA AI software, Rescale is providing engineers and scientists with the tools they need to tackle complex challenges faster and more efficiently.
With the ability to run simulations on demand, companies can scale their computing needs as required, optimizing both cost and speed. The integration of NVIDIA Modulus and the NVIDIA Base Command Platform AI developer workflow management software will further enhance the flexibility and performance of the platform. As a result, the future of industrial scientific computing looks bright, with the potential to drive innovation and solve complex problems at an unprecedented pace.
Rescale's HPC-as-a-service platform is accelerated by NVIDIA on leading cloud service providers, including Amazon Web Services, Google Cloud, Microsoft Azure, and Oracle Cloud Infrastructure. Watch this keynote address to learn more about this partnership.