What's New
Kaohsiung welcomes visitors from Around the World to attend the 2023 Kaohsiung Smart City Summit & Expo
The second Smart City Summit and Expo will open at the Kaohsiung Exhibition Center on March 30th. Visit the 165 exhibitors participating with 550 booths. During the three-day exhibition period, 20 professional forums will be held, expected to attract more than 30,000 professional visitors.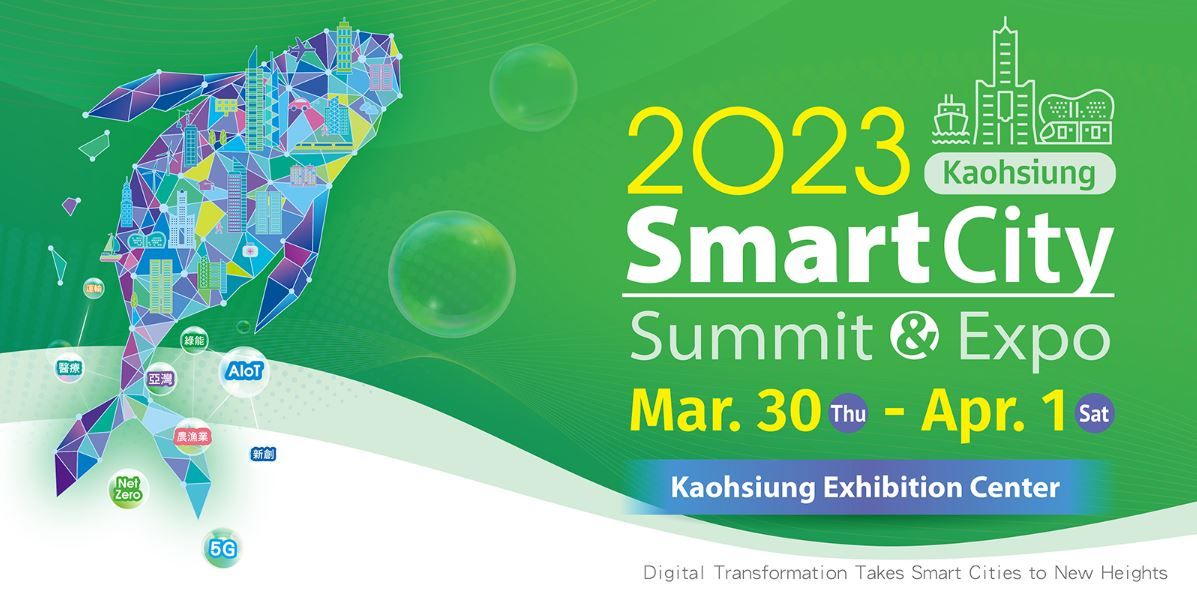 <Kaohsiung News> The second Smart City Summit and Expo will soon have a grand opening at the Kaohsiung Exhibition Center on March 30th! 165 exhibitors will participate in the event, with a 10% increase in the scale compared to last year, showcasing 550 booths. During the three-day exhibition period, 20 professional forums will be held, expected to attract more than 30,000 professional visitors.
President of Taiwan Smart City Solutions Alliance, Chee Ching, said that due to the relaxation of border control this year, more than 300 overseas visitors are expected to attend the exhibition and conduct business exchanges.
The Secretaries-General of the three major international city organizations, ICLEI, CityNet, and WeGO, will also attend. Chen Chi-mai, Mayor of Kaohsiung City, will introduce the city's experience in digital transformation and the development of smart cities to global guests. At the same time, he will sign an open memorandum of cooperation on local energy governance technology with ICLEI, introduce Taiwan's pioneering urban energy governance norms to assist Kaohsiung in energy transformation, and help Taiwanese energy companies enter the international market.
It is understood that the purpose of Smart City Summit & Expo (SCSE) is to encourage cities around the world to actively build smart cities to improve people's quality of life while also hoping to drive the development of the Internet of Things (IoT) industry in the process of developing smart cities. Since its first debut in 2014, through the joint efforts of various sectors, this exhibition has become the world's most well-known smart city exhibition and the largest IoT industry exhibition in Asia. The relocation of the expo to Kaohsiung will contribute to the digital transformation and urban economic development of Kaohsiung City.
This year's exhibition theme is "Digital Transformation Takes Smart Cities to New Heights," showcasing various smart solutions such as 5G AIoT, smart governance, smart healthcare, smart agriculture and fisheries, green and sustainable energy, and smart transportation.
Deputy Mayor of Kaohsiung City Charles Lin stated that the important purpose of holding KSCSE is to showcase the progress made in various smart technology applications and the development of the Asia New Bay Area 5G AIoT Park, which have been implemented in the past two years in Kaohsiung's urban governance, digital transformation, and industry sectors. Through this large-scale international exhibition, we can share these achievements with enterprises in the central and southern regions and promote Kaohsiung's vision as a global smart city development export base assigned by the National Development Council. The Kaohsiung City Government is committed to creating a brand-new smart city using 5G AIoT technology.
The Kaohsiung Smart City Summit and Expo Pavilion will showcase the government's achievements in providing innovative and efficient government services using information technology in areas such as smart living, smart transportation, smart education, smart security, smart industry, and smart environmental protection. In addition, various companies and organizations, including Chunghwa Telecom, Far EasTone Telecom, KYMCO, MiTAC Information Technology Corp, ASKEY COMPUTER CORP, DELTA ELECTRONICS, CECI Engineering Consultants, Council of Agriculture, Bureau of Standards Metrology and Inspection, Hyundai Rotem, Sinotech Engineering Consultants, Stadler Rail AG, SIEMENS AG, and TUV RHEINLAND TAIWAN will exhibit their smart city, zero-carbon emission, and smart agriculture solutions respectively.
The director of Siaogang Hospital, Chao-Hung Kuo, stated that the Smart Healthcare Pavilion is a significant feature of this year's exhibition. A total of 14 hospitals from nine medical institutions, including Kaohsiung Medical University Health System (including Siaogang, Datong, Qijin, and Gangshan), Kaohsiung Veterans General Hospital, Kaohsiung Chang-Gung Memorial Hospital (including Fengshan), E-Da Hospital, Kaohsiung Municipal Min-Sheng Hospital, Kaohsiung Kai-Syuan Psychiatric Hospital, Kaohsiung Municipal United Hospital, Kaohsiung Municipal Gangshan Hospital, and Ministry of Health and Welfare Pingtung Hospital will showcase the latest applications of smart healthcare in the Kaohsiung-Pingtung region, presenting two major themes of ESG (Environmental, Social, and Governance) and Metaverse. This collective effort is a rare medical industry event in the southern region, and all participating hospitals will work together to build a smart medical industry cluster in the south. Chao-Hung Kuo believes that this joint display represents the gradual formation of the smart medical industry cluster in Kaohsiung. Compared to the large-scale development of the medical system in the north, the south must bring together various types of medical institutions to create benefits through collaborative efforts.
In promoting the green transformation of Kaohsiung City, Chee Ching pointed out that real estate, government, academia, and other sectors have put a great deal of effort into green and sustainable work. This exhibition invited eight well-known universities in southern Taiwan, including Chung Shan Medical University, National Kaohsiung University of Science and Technology, National University of Kaohsiung, Kaohsiung Medical University, National Cheng Kung University, National Pingtung University of Science and Technology, I-Shou University, and Fu Jen Catholic University, as well as 16 startups to showcase their research and development achievements, products, and services based on three major themes of circular economy and sustainable agriculture, zero-pollution innovative technology and materials, and zero-pollution innovative services and products. The exhibition hopes to integrate more resources and efforts into local green and sustainable work through exchanging and displaying ideas. The corporate sector is also actively involved in achieving zero-carbon emissions, with companies such as ASE, CPC Corporation, Taiwan, Hsinta Power Plant, New Green Power, Ysolar Co., Southern Company, United Renewable Energy Co., Sunshine Garden, CALIFORNIA ENERGY GROUP, Yuh Shan Environmental Engineering Co., YOUNGRAY, VGwatt Energy Corp., JS Environmental Technology and Energy Saving Co., and others showcasing solutions in various aspects such as ESG, renewable energy, energy conservation, and energy storage to assist the government in promoting zero-pollution and carbon reduction work in southern Taiwan.
2023 Kaohsiung Smart City Summit and Expo (KSCSE)
Organizers: Kaohsiung City Government, Taiwan Smart City Solutions Alliance, Taipei Computer Association
Dates: March 30th (Thursday) to April 1st (Saturday), 2023
Venue: Kaohsiung Exhibition Center
Registration for visiting the 2023 Kaohsiung Smart City Exhibition and attending the professional forum series is now open.
Free registration at: https://smartcity.org.tw/2023forum_all.php