High Growth Expectations are Fueling Network Security Investment by Communication Service Providers Worldwide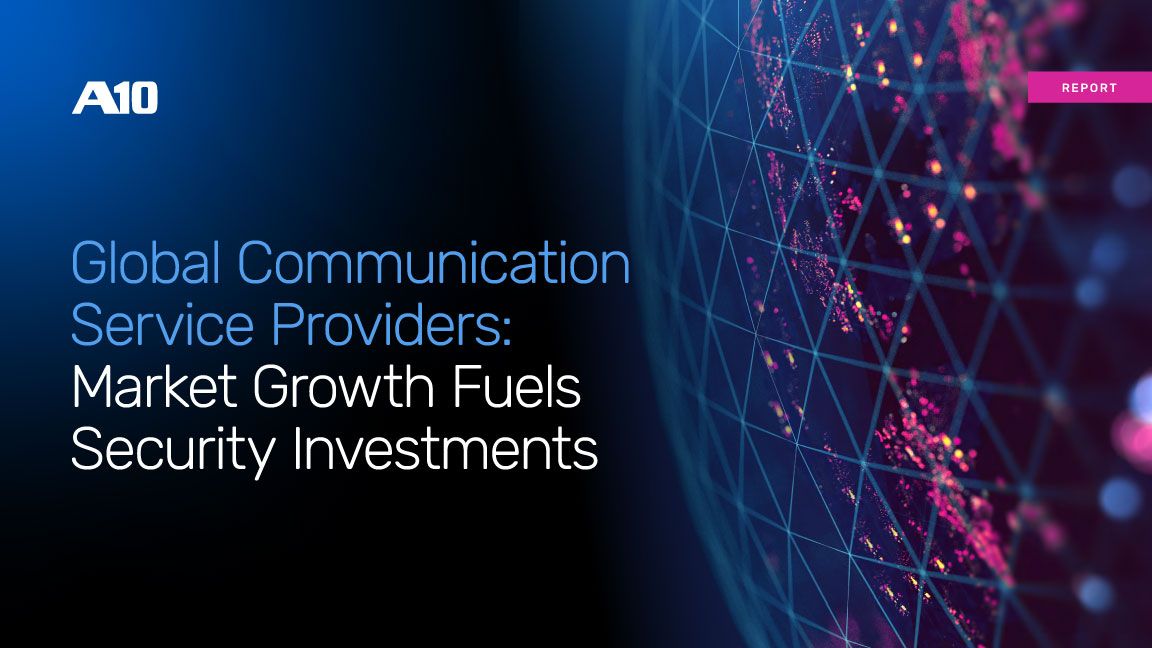 May 9th, 2023 – A10 Networks today published research, titled Global Communication Service Providers: Market Growth Fuels Security Investments, exploring how communication service providers (CSPs) worldwide are evolving as they expand services and infrastructure in response to changing customer demand and technology evolution.
The study, conducted by independent research organization Opinion Matters among 2,750 senior CSP IT professionals across 11 regions*, found near-universal expectations of robust network traffic growth, with 66% believing it will soar by 50-100% in the coming 2-3 years. This is prompting a range of activities including network security investment, expanding infrastructure to meet the needs of underserved communities, and diversifying into new markets and services.
The study also explored how CSPs are affected by key market trends such as customer cloud adoption and the IPv6 transition. While most have seen positive benefits around cloud, the move from IPv4 to IPv6 is progressing less smoothly.
Commenting on the research findings, Anthony Webb, vice president of A10 International, said: "Despite economic uncertainty, digital connectivity is so central to resilience and recovery that CSPs expect the strong growth seen in recent years to continue. This is creating both the urgency and the confidence among CSPs to undertake major infrastructure and technology investment projects. As they do so, our research shows they are growing more sophisticated in how they approach network security, but challenges remain with the IPv6 transition."
Providers are Working to Close the Digital Divide
A key area of investment for CSPs centers on expanding their networks to reach unserved or underserved communities. Providing secure, reliable connectivity to hard-to-reach or previously uneconomically viable areas is crucial to reducing inequality. It is therefore a positive that 69% of respondents are expanding their networks to unserved/underserved communities. Among these, half are expecting to achieve an uplift of more than 10% on their current subscriber base and 19% are expanding for an uplift of more than 50%.
Additionally, 31% of respondents – the majority of whom were from larger CSPs – said they are planning to build additional data centers and expand to provide additional capacity for other service providers.
Network Security Strategy is Becoming More Sophisticated and Diverse
security. When A10 Networks ran a similar study in 2021, security investment was heavily focused on firewall upgrades. Now, although firewall and appliance upgrades are still important, CSPs are also focused on broader components of network security defense.
DDoS detection and monitoring is a priority for 27%, while 26% are investing in ransomware and malware protection services. The same percentage are looking to automate security policies and to simplify and integrate disparate point solutions.
Anthony Webb added: "As CSPs prepare for growth, elevating their approach to security and compliance is becoming increasingly critical to delivering a high-quality service to customers while simultaneously ensuring resource efficiency. We are seeing growing interest in solutions that enable providers to scale legacy systems quickly without compromising security. These include AI, machine learning, and automation solutions that lift the management burden and deliver full control over the network. For growing providers, this offers peace of mind as threat levels increase in proportion to network size. It also provides the visibility and assurance needed to meet regulatory requirements, which our research found to be the second-most common driver for investment in network security."
Enterprise Cloud Migration is Having a Positive Impact on CSPs
As customers continue to migrate to the cloud, CSPs can now assess the impact this is having on their business. For almost two-thirds (63%) it has been positive. Among these, one-quarter have seen direct revenue growth, one in five have evolved to offer public cloud and managed data center services, and 19% have differentiated their services and increased their relevance to customers. Only 16% of respondents said they had lost revenue because of the cloud shift.
Cloud is affecting CSP buying decisions, too. A cloud-native form factor was the top purchasing criterion for new network equipment, while integration with existing networks and systems was also high on the list.
IPv6 Transition Remains an Ongoing Challenge
Rising demand will put increasing pressure on CSPs to overcome IPv4 address scarcity by making the switch to IPv6. However, the study showed that only 30% expect to successfully achieve this in the next two to three years. Instead, more than one-third are adopting a strategy of carefully managing their IPv4 pools and gradually transitioning to IPv6 and 34% aim to run the two in parallel.
This cautious approach may see providers struggling in the short-term as IPv4 addresses grow harder to obtain.
Opportunities Abound Through Increasing Globalization and Demand Growth
A10 Networks' Global Communication Service Providers: Market Growth Fuels Security Investments report shows that CSPs are at a crucial point as they aim to capitalize on demand and seize opportunities to grow and diversify their business. They believe that globalization, offering new services such as DDoS cloud scrubbing, and general demand growth are the three biggest opportunities. To realize their full potential, service providers need to scale and protect their networks so the infrastructure they provide is secure and highly available.
For more insight including analysis of variations between individual countries and regions surveyed, download the full report here:
https://a10networks.com/resources/reports/global-communication-service-providers-market-growth-fuels-security-investments/