All you need to know about Arm's new TCS23 and how it's going to upgrade Smartphones in the near future
Arm is the leading technology provider of processor IP. You would be familiar with brands like Apple, Qualcomm, MediaTek, Samsung, Huawei, and Allwinner who are all licensees of Arm IP. They building on top of Arm's technology to bring mobile computing products to the market. These solutions are not just seen on smartphones, but also on tablet computers, industrial PCs, and even servers.
Arm has just announced its latest technology at a press conference held in conjunction with COMPUTEX Taipei 2023. Their new mobile computing platform, Total Compute Solutions 2023 (TCS23) is going to power products in the near future. Here's all you need to know about TCS23.
1. Brand New 5th Gen GPU Architecture - Introducing Immortalis-G720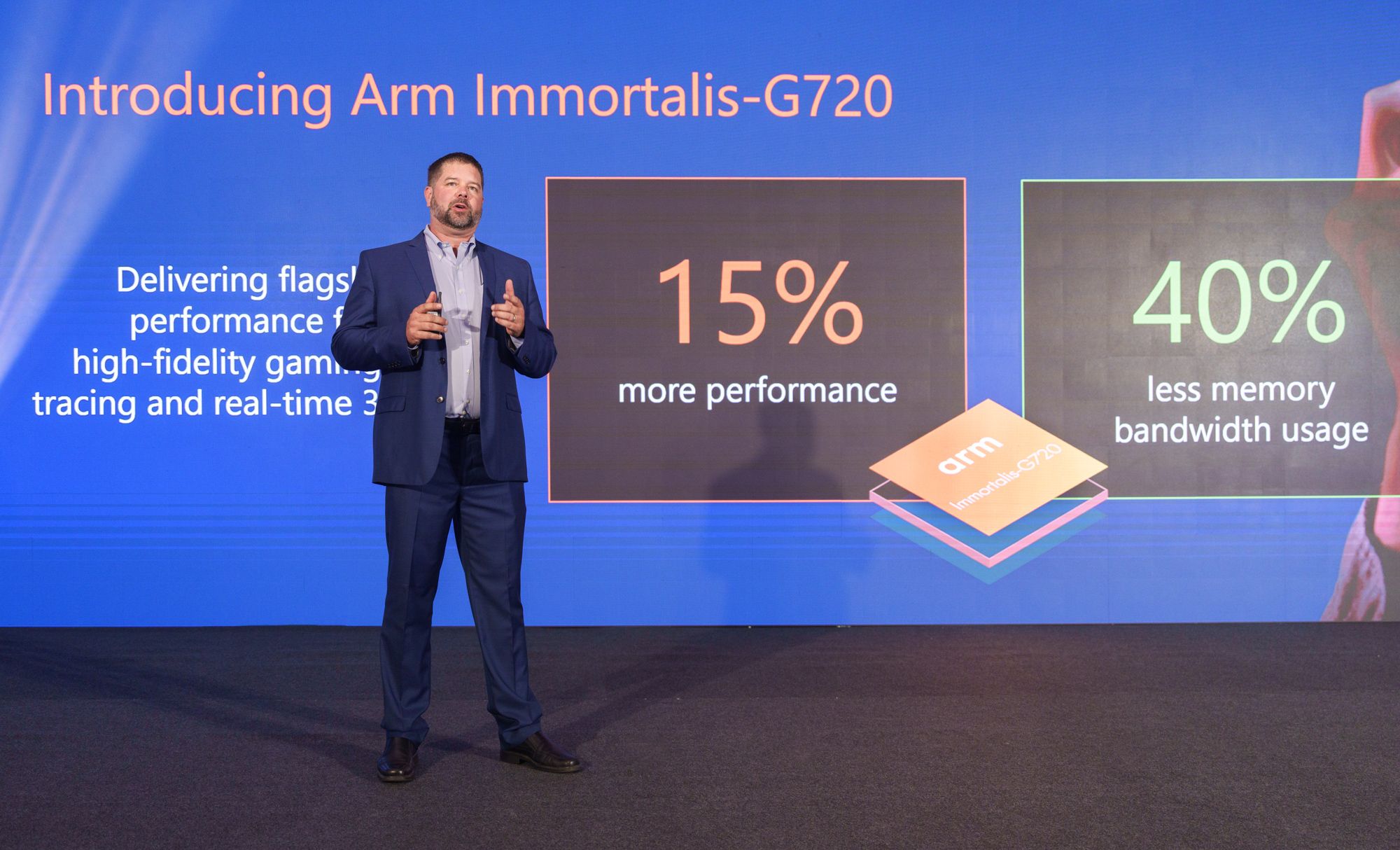 The new 5th Gen GPU Architecture from Arm is the most efficient one Arm has designed thus far. It redefines parts of the graphics pipeline to reduce memory bandwidth, thus, enabling improved performance in high-geometry games and real-time 3D applications. Of course, the new GPU architecture also brings smoother gameplay, which is said to bring a console-like gaming experience to the mobile.
The 5th Gen GPU architecture also introduces Deferred Vertex Shading (DVS), which is a new graphics feature. It redefines the data flow, which enables partners to scale for larger core counts and higher performance points. Today, the benefits of DVS can be seen across many popular games such as Genshin Impact and Fortnite.
The new Immortalis-G720 is Arm's fastest and most efficient GPU today, and it is based on the 5th Gen GPU architecture. It delivers 15 percent performance and efficiency improvements over the previous generation, as well as a 40 percent uplift in system-level efficiency, leading to higher quality graphics for more immersive visual experiences.
Alongside the Immortalis-G720, Arm has also introduced the Mali-G720 and Mali-G620 which serves a wider market and segment.
2. New Armv9 Cortex CPU Compute Cluster

Arm has announced a new Armv9 Cortex CPU compute cluster, which promises double-digit performance gains alongside significant efficiency improvements.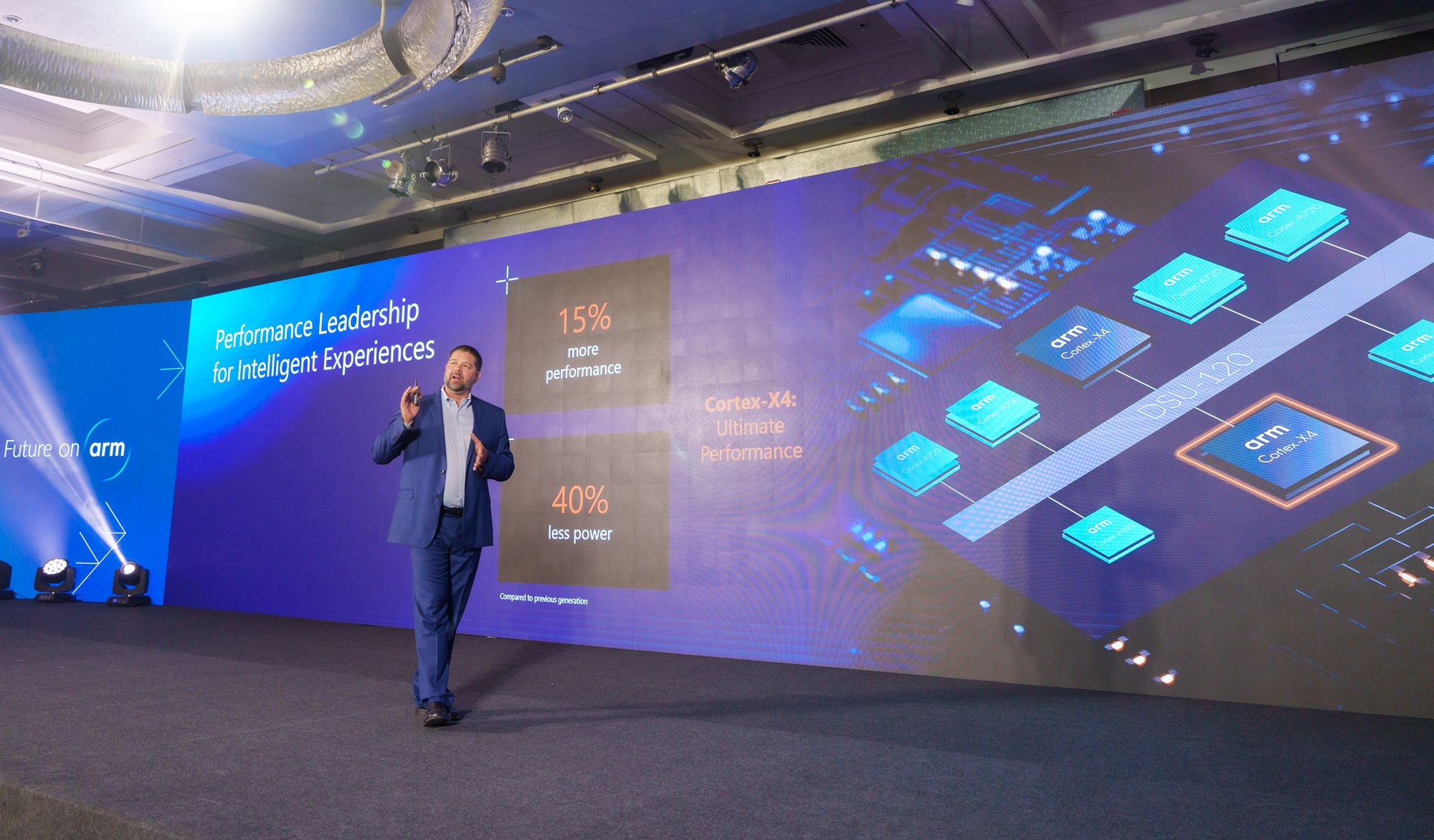 One of the key parts of the new high-performance cluster is the new Arm Cortex-X4. It features the latest fourth-generation Cortex-X core, which pushes the limit of performance on flagship smartphones.
It is the fastest CPU Arm has designed, and they claim that it will bring 15 percent more performance compared to the Cortex-X3. Meanwhile, the new power-efficient microarchitecture consumes 40 percent less power than Cortex-X3 in the same process.
To the layman, it essentially means better UI responsiveness and application launch time, as well as enabling next-gen AI and ML-based applications.
The new designs also extend Arm's big and LITTLE cores – the Arm Cortex-A720 and Cortex-A520.  Cortex-A720 is industry-leading CPU IP that boosts sustained performance as the workhorse of the cluster. Meanwhile, Cortex-A520 is Arm's most performant high-efficiency CPU core ever.
Use cases like AAA gaming, all-day productivity, and background tasks all benefit from the 20 percent power efficiency improvements of these new CPU designs over previous generations.
The key to delivering the highest performance and most efficient designs is tighter coupling on process nodes and compute capabilities. In this new generation of CPU designs, Arm is taking its long-standing partnership with TSMC a step further by taping out the Cortex-X4 on the TSMC N3E process – an industry first. This ensures that our ecosystem is ready to maximize the PPA benefits of our processor technologies once they are taped out.
Rounding off the 2023 CPU cluster is the new DynamIQ Shared Unit, DSU-120, which is designed for demanding multi-thread use cases and enables a broad range of devices from wearables to smartphones and laptops. The new CPU cluster provides performance when you want it and efficiency when you need it.
3. Software for AI computing. Security for Everyone

The buzz words in the industry today are "generative AI". There is an ever need for better AI computing capabilities. Today, there are also many AI applications found on smartphones that make use of Arm's accelerated software for improved and more efficient processing on their IP.
Arm NN and Arm Compute Library are being used by Google apps on Android with over 100 million active users today. These libraries enable developers to optimize the execution of their ML workloads on Armv9 Cortex-A CPUs and Arm GPUs.
Furthermore, as security is also a key concern in technology implementation these days, Arm's new CPUs deliver 64-bit computing and Armv9 security innovation to protect against more advanced digital threats. Arm is also constantly deploying Arm Memory Tagging Extension (MTE), which eliminates memory safety bugs that make up 70 percent of all software vulnerabilities, across the mobile ecosystem through our Armv9 generation of CPUs.